Credit Card Processing Software and Payment Processing Software streamline your Credit Card Processing Software transactions. They eliminate costly credit card terminals by switching to PC based payment processing software or solutions using our preferred Merchant Service Providers. We have systems designed to integrate into your restaurant or retail application.

Benefits with Starrli Credit Card Processing System
- Lowest rates available for major credit cards
- Quick authorization and fast checkout
- Manage sales report easily
- 24 hour/7 days service support
Credit Card Processing Software
SEI Point of Sale and Bar-coding offer Credit Card Processing Software and Payment Processing Software for business of all sizes. We also offer complete POS systems, including payment processing equipment and software. By constantly investing in new technology SEI POS insures that our equipment, networks and internal systems are the most advanced and reliable systems offered today. With our knowledge and mutual experience we have consistently been able to help merchants save their hard earned profits and enjoy monthly savings. You'll never experience hidden costs through our 'no surprise fee' policy. Our simplified application takes only a few minutes to complete. Once approved, we'll train you and your staff on all card acceptance procedures.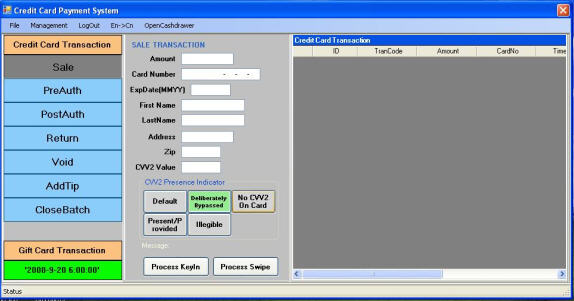 Already combined with POS system, save process waiting time.